About us:
We are two automobile enthusiasts of two different generations.
Father (1952) and son (1988) op de Weegh.
At the moment we are investigating the backgrounds of the Schlumpf-affair and we are planning a book of the story between 1977 and the death of Arlette Schlumpf in may 2008. In the meantime we are investigating some important barn finds in France.
Arnoud op de Weegh was born on June, 21st 1988. As a very young boy he already knew almost every car by name. After graduating High school in 2006 he went to the Technical Academy in Arnhem, automotive direction, to become an automotive engineer. In 2010 he graduated. In 2011 he started his master Public Administration at the University of Nijmegen. Of the two Arnoud is the one with the best technical knowledge. His interest goes to legendary brands like Bugatti, Jaguar, Bentley, Rolls Royce, etc.
Ard was born on October, 28th 1952. His father had a Volkswagen Beetle, in these days.
His father was an automobile-lover. From his youth Ard is interested in cars and he is very proud to do his investigations with his son. He is interested in the story behind the collections and the motives of the collectors.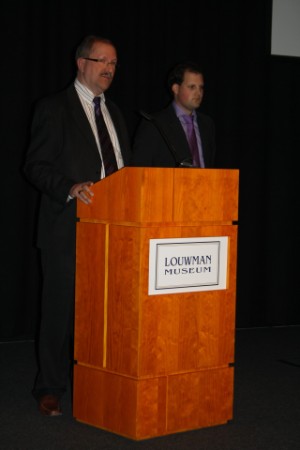 Ard and Arnoud op de Weegh during the presentation of their book "Bijzondere Autokerkhoven" (2011)